The Portfolio Stack
BIAS Amp 2
BIAS Amp 2 is the first big revamp project in Positive Grid. The whole UI stytle was evaulated to a new level. The improvement of user experience was being put to the first priority. Make it more easily operate than before.
Celestion cab was introduced in BIAS Amp 2. It also supports new digital amplifier, BIAS Mini.
I was joining this revamp project to improve UI/UX for BIAS Amp 2. Also, make BIAS Amp 2 connect to the new hardware, BIAS Mini.
BIAS Pedal and iOS App Integration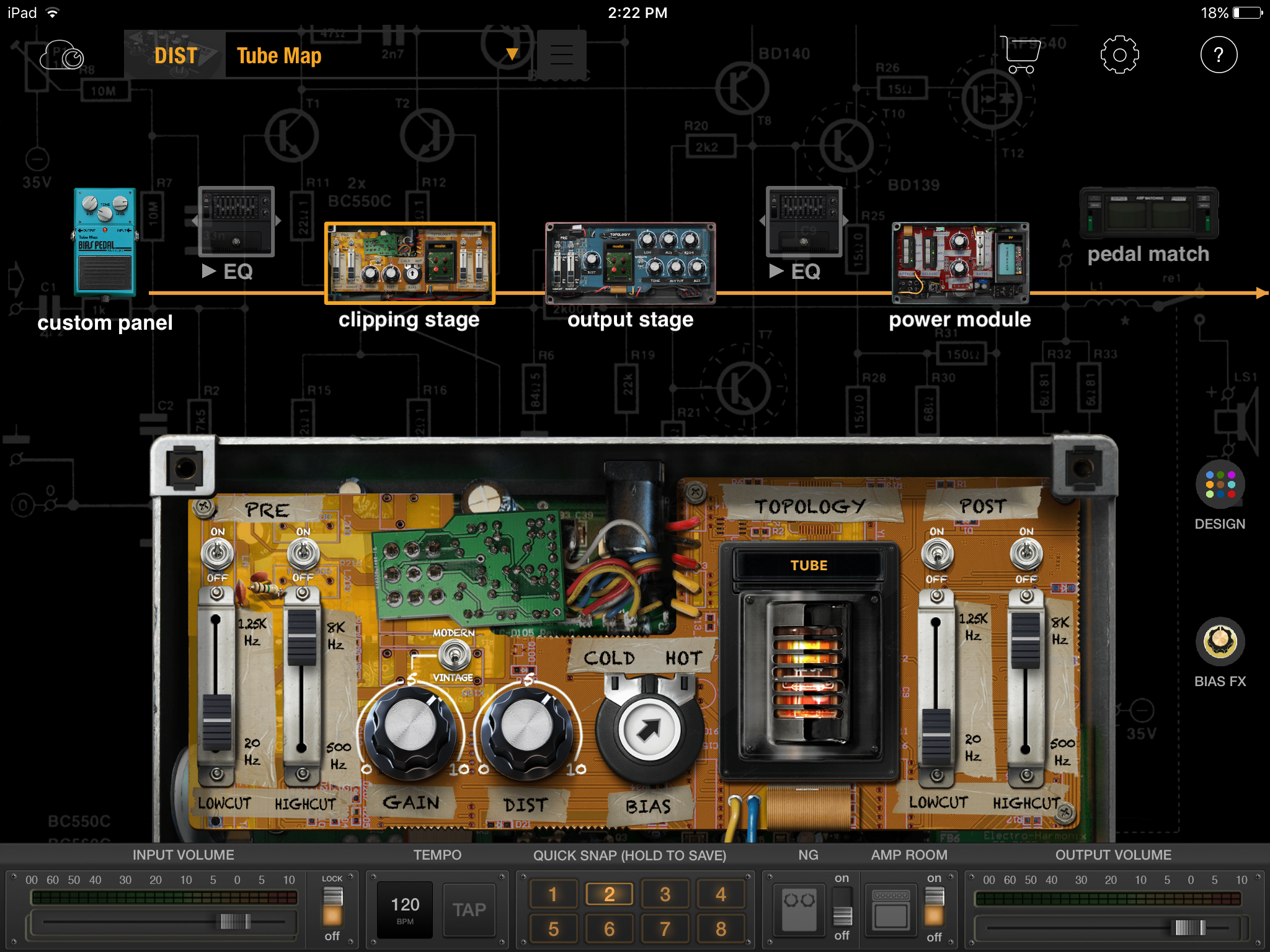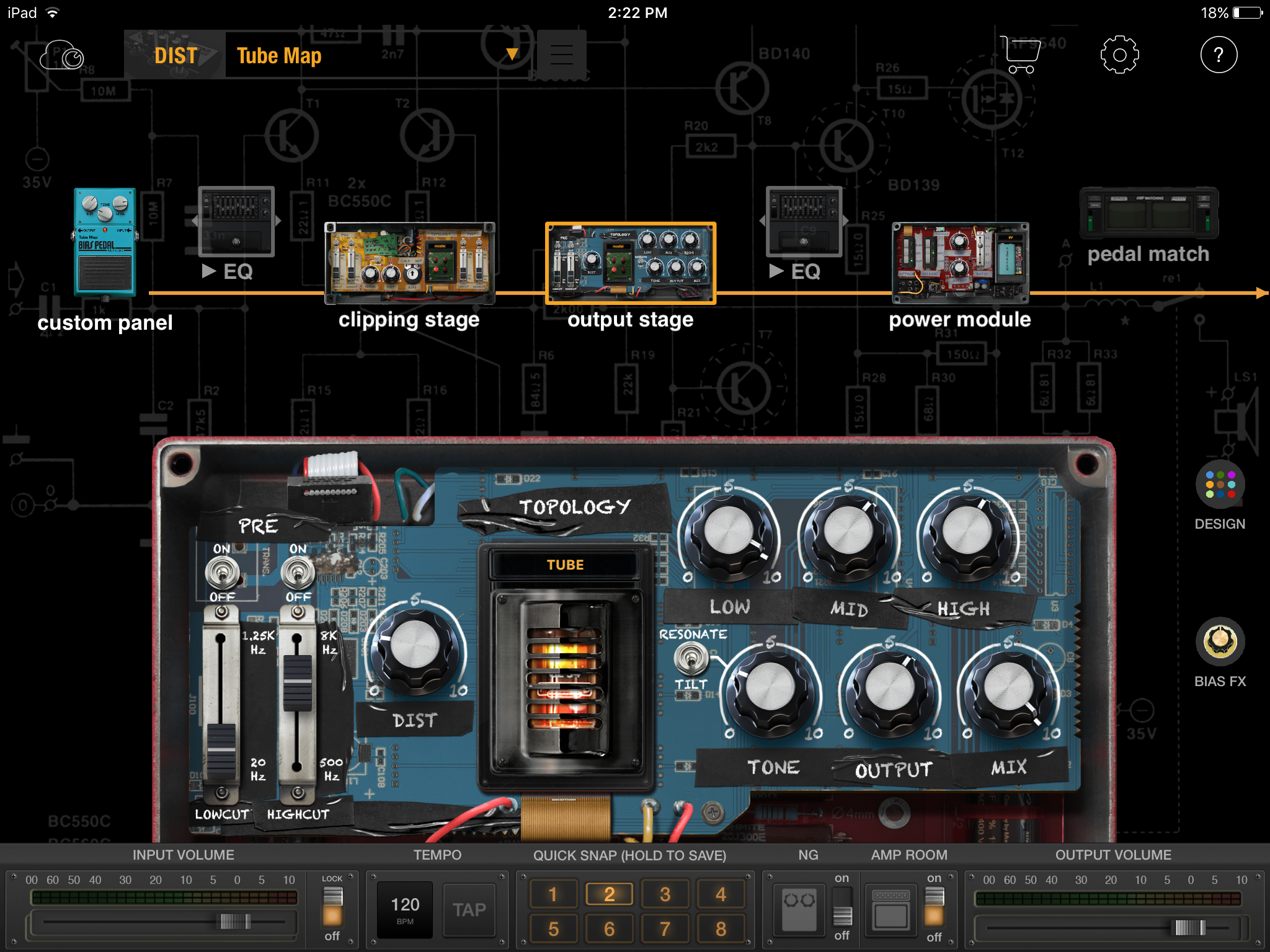 BIAS Pedal iOS is a guitar effect app with Distortion/Delay/Modulation effects inside. Not only we can play it in standalone but has ability to connect a BIAS Pedal hardware through BLE.
I also handled the data and the command transmission between pedal hardware and the app.
BIAS Head and BIAS Amp iOS integration
BIAS Head was the first digital amplifier product of Positive Grid. We integrated BIAS Amp iOS (1st generation) and BIAS Head through iOS BLE technology.
BIAS Amp iOS can remote control BIAS Head to adjust effect parameters on any DSP elements. We can also load different DSP parameters to BIAS Head. One digital amplifier can have different sound effect when connecting to BIAS Amp iOS.
I was responsible to integrate connection and remote control on BIAS Amp iOS. Also, with UI feature implementations.
airDMX
airDMX is the wireless stage lighting controller on iPad. Massively simulating hardware type DMX control panel. It accompanies with airDMX Wifi AP. It is the leading product in Euro market.
airDMX is using Cocoa KVC technique heavily to reduce for-loop pattern. The reason was to reduce the overhead since DMX values are being calculated over 512 DMX channels. GCD is definitely used with background thread for real time DMX values output to perform lighting shows.
I was one of the pioneers and was responsible for architecture design.
Mobile Secretary
Mobile Secretary is an in-house app I helped build up for Cathay Century Insurance Co., Ltd. It helps sales people to arrange insurance products for customers.
The whole app used form-like web design but realized in native UI components. In this app, I customized UITableViewCell and used plist file to dynamically create form type cells to fit the need of multi-selection of insurance products.
(Enterprise app. Not available on App Store)
Ag Link Connect
Ag Link Connect is an iPhone app connecting a web service to introduce you good food and farm fresh products in California, United State. I was responsible for app architecture design, programming and web API integration.
In this app, I created EPParagraphView to have text rendering in paragraph format. It used TTTAttributedLabel to be its submodule.
(Not available now)
Marlboro Swipe Game
Marlboro Swipe Game was a funny puzzle game app I helped create for Marlboro Taiwan. It was an in-house app used for the branding promotion.
I simply used UIKit and Cocoa API to program this app without any game engine like cocos2D. It also needed to thank the UI designer for his great artworks.
(Not available now)
Traveling in Kaohsiung City
Traveling in Kaohsiung City is a promotion app for Kaohsiung city in Taiwan. You can find traveling spots, bus stations and hotel informations by this app. It is an MRC (Manual Reference Counting memory management) project.
(Not available now)
Mobile Water
Mobile Water is designed for reporting flood state. User can use this app to take photograph of flood conditions right away and then upload to the cloud. User can also find the flood reports provided by others.
This project was outsourced by Water Conservancy Agency of Taiwan government. I made this app with UIKit/Map Kit/Core graphics framework and did manual memory management.
(Not available now)
Zespri So Happy
Zespri So Happy was a promotion app. The user could play 10 different games to win the dolls. After collecting different dolls, the user got the pass to join the lottery which was held by Zespri Co., LTD.
(Not available now)
PrimeOrder
PrimeOrder is a self-design product creating for Zoaks Co., LTD. PrimeOrder is a POS app designing for small restaurants and bistros. It also provides wireless printing ability while connecting to Wifi POS printer. PrimeOrder unifies meal ordering/checkout, table management, meal category management and daily sales history into one app.
It was developed under MRC environment. I was responsible for programming and UI design.
(Not available now)
Starbucks Taiwan - Valentine
Starbucks Taiwan valentine version was a promotion app in Taiwan only. The user could take photograph with the app and make decorations, like virtual sticky, text, on the photo. The photo could be saved in the cloud or shared on Facebook.
(Not available now)
MADDisc
MADDisc is my personal creation. MADDisc was published on App Store in 2011. It had been picked up to newest top 20 apps in entertainment category. The user could use it to define their own decisions with different colors and texts. After that, the user spun the black long hand to make a final decision.
My first proud of app project in my Life. I was combining Core Graphic, Core Animation, Core Data and UIKit to build it up. It took me through the bottle neck of Objective-C programming into the world of mobile development.
(Available on my github repo )